Go to top&nbsp&nbsp&nbsp&nbsp Home

Rodway Road Memories as told by Robert Proper

I was born in Battle hospital in 1945. I was looked after by my grandmother who lived at 36 Rodway Road, whilst my mother worked at Miles Aircraft factory in Woodley. My grandmother was widowed when her policeman husband was killed after being thrown from his horse in Southern Rhodesia (now Zimbabwe). She came to England in 1926, with her three children. Her second husband squandered her inheritance gambling, and my grandmother lost two farms settling his debts and she ended up renting this home in Rodway Road. Her second husband left her with a further 5 children to raise in this small house.

The Rodway Road houses were built around 1936/7, at the same time as the Kentwood Road shops and the Oxford Road/Rodway Road/Kentwood Road roundabout. My grandmother was the first resident of number 36.

My grandmother's name was Bertha Blake who married Herbert George Page and then Wilfred Dunne. Her children were Phyllis Page who married Ted Wyatt manager of Home and Colonial store in Wokingham; Georgina Page who married Philip Dye, the workshop manager at Miles Aircraft; Patricia Dunne who married Johnny Upton a watchmaker; Garth Dunne emigrated to Australia and invested in property; Michael Dunne was a radio and TV engineer; David Dunne got infected with TB at one of the farms as a small child and spent all his childhood in Nuffield Orthopaedic Hospital, Oxford. When released he became a fine art student, and then an acclaimed jeweller in Australia; Bruce Dunne was an accountant for a large car dealership in Reading.

Of the many memories I have collected from family, here is one of my own experiences I have selected to share:

My uncle Michael Dunne used to pop round for a cup of tea with his mum, my granny, at 36 Rodway Road he travelled round visiting customers. To avoid any questions being asked by police constable George Moore, who lived opposite at number 19, Michael would park the Morris 8 van a little further down Rodway Road from granny's house near the junction with Grasmere Avenue. Michael would let me (no more than 3 years old) sit in the van whilst he popped in for a natter. I would play with his tools, and the car switches, as small boys do. One day I got a bit too adventurous, and somehow managed to release the handbrake, causing the van to gently roll down the road and end up in the middle of Oxford Road Roundabout. Guess who pulled me out of the van to deliver me back to granny's house – yep! It was constable George Moore.

Perhaps some members may remember my family, or have some memory of Rodway Road in the 1930s and 1940s.

This is Victoria Park, Tilehurst football 1951. My father Roy Higgs back row fifth from the left. Unfortunately I have no other names.

I think the football team was called Tilehurst Wednesday.

The picture of the open top bus, with lots of flat caps in it, was a trip to the coast from Tilehurst date unknown, with the famous Smiths coach. Hopefully someone might recognize a face. My grandfather Harry was on that bus somewhere.

The picture with the three amigos , featuring my grandfather Harry Andrews centre, His son Edward ( Ted ) on the right and a friend from Tilehurst , a badly handwritten name on the back of the photo Albert Emmings ? Date unknown, possibly late 1950's All dressed for the beach.

The suave looking man next to the coach is my dad Roy Higgs in 1951 on a Tilehurst cricket or football tour to Scotland.

The large group of beach goers, possibly under the influence , was a day trip from Tilehurst, not dated. Featuring my grandfather Harry Andrews , centre of picture with rolled up sleeves. My grandmother Violet Andrews , far left centre, next to another lady who appears to be getting friendly with my grandfather. The remainder look to be a very interesting bunch of characters, despite all wearing suits and ties.

Go to top&nbsp&nbsp&nbsp&nbsp Home

As sent in by Nigel Bone

Tilehurst Memories (1949 – 1971)

Reading through the copy of More Tilehurst Memories (1997) recently prompted me to record some of my own.

I was born in 1947 in the Royal Berkshire Hospital – the first two years approximately of my life was in a rented property (83 Wantage Road, Reading)

Some time in 1949 my parents bought a house 59 Victoria Road, Tilehurst (a 3-bedroom semi-detached property with bay windows) where they were to live until 1973. (I myself left the area in 1971). The property I believe was bought from Mr.& Mrs.Fortune.

My mother (formerly Dulcie Cull) had originally moved to Tilehurst with her parents in 1930 from Standlake near Oxford after their retirement, buying 82 Church Road (now 112 St.Michaels Road). My only memory of this house was going out of the double doors into the garden and seeing pigeons flying away (I used to call them bobies). At that time my grandmother was living there alone after my grandfather died in 1943. I do remember the next-door neighbours were a family called Champion who ran a rag & bone business.

Shortly after the house in Victoria Road was bought my grandmother (Gran) moved in with the family. My father's mother (Nanny) was already living with us occupying the upstairs bedroom at the back. My parents occupied the front bedroom and I had the middle one. Downstairs there was a kitchen and a dining room plus a drawing room at the front – this had double doors in the middle which meant it could be used as 2 rooms or one larger one. The back part became my grandmother's bedroom – it was not opened out until after she died in 1960.

Our next door neighbours on the one side were Harry & Joan Sexton who moved into the property a year or so after us. Initially Joan's brother and wife lived upstairs with their son Brian who was a year or so younger than me. After a few years they moved out and bought a house in East Reading. The Sextons then took in 2 single ladies Miss Simpson and Miss Allen as lodgers.

In the mid-60s.either my parents or the Sextons discovered on consulting the deeds that there was provision for a back entrance to the properties which had never been utilised. This affected nos.59 – 65 Victoria Road. My father Alfred Bone and Harry Sexton had to negotiate with those living in the other 2 properties about removing some of hedges in the back gardens. After doing this the ground had to be levelled and then concreted. This took several weeks. When this was completed a solicitor's letter was received on behalf of the owner of No.63 who was not living there but had rented it out. It stated that he would entitled to some recompense for access over his land. This necessitated a visit to the solicitor for my parents and the Sextons – fortunately the deeds showed that a right of way existed.

My parents left Victoria Road in 1973 moving to Delaney Close and then in 1981 to Halls Road before leaving Reading altogether in 1993.

My mother, Dulcie Bone (born Cull), wrote an article in 1975. I have typed it up. It was titled "Tilehurst Past and Present" . Click here to read it.

Schools

From 1952 – 1955 I attended Park Lane. The earliest memory was queuing outside the doors of the main building with my mother at the start of the Summer Term (in those days children commenced the term after their 5th.birthday). I remember seeing Shirley Hopkins with her mother – they lived in Wendover Way. My first teacher was Mrs.Leslie from Australia who was on an exchange – the other reception teacher was Miss Payton. On the first day I recall scribbling on backboards fixed to the walls around the classroom. The next 2 years were spent at the Laurels in the infant department along School Road. My teacher in the first year was Miss Weston (later Mrs.Newton) and in the 2nd.year Miss Williams, the Head Teacher. Other teachers there were Miss Alder (later Mrs.Fisher), Mrs.Alexander, Mrs.Roberts, Mrs.Moore and Miss Vallace. On thing I recall was saluting the soldiers in their vehicles passing by along School Road presumably on their way to Brock Barracks in the Oxford Road. My last year at Park Lane was spent in the main school – my class teacher was Miss Vallace who had transferred from the Laurels. I remember hearing children in the classroom next door (Mr.Bray's class) reciting their tables. The Head Teacher was Miss Clamp who seemed to know all the children by name. Each Friday morning she took the whole school for singing teaching us various hymns such as "Lord of all Hopefulness" . On another occasion one boy in the class Simon Boilet had been knocked unconscious in the playground. Various children were summoned one by one to her room to ask if they had seen the incident. You felt Miss Clamp had real feeling for the pupils in her care. Just before I left the school children were invited individually to her room to present her with a small gift – I remember her giving me a kiss. In addition to the main building at Park Lane some classes were being held in the Youth Club premises in the Triangle and the Old National School in School Road. Other teachers at Park Lane were Miss Wheeler, Miss Jordan, Mrs.Nealand, Mr.Bray, Mr.Channing, Mr.Keating, Mr.Haines, Mr.Wiles, Miss Scott, Miss Massey and Mrs.Waltham.The school secretary was Miss Jarvis and the caretaker Mr.Aitken.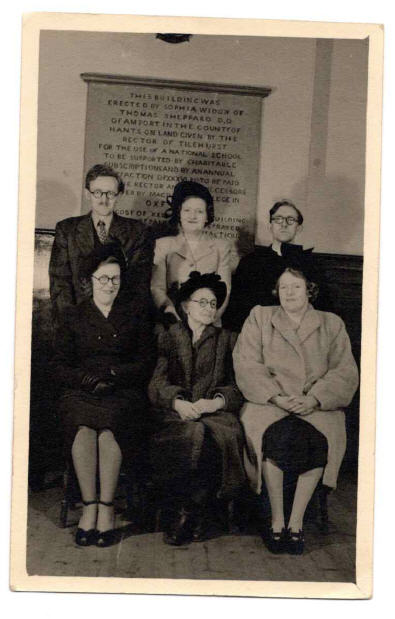 This is a photo of my grandmother, mother with other siblings taken at the old National Schools in 1951 mainly showing the plaque as a backdrop.
Park Lane Photo (probably 1956 or 1957)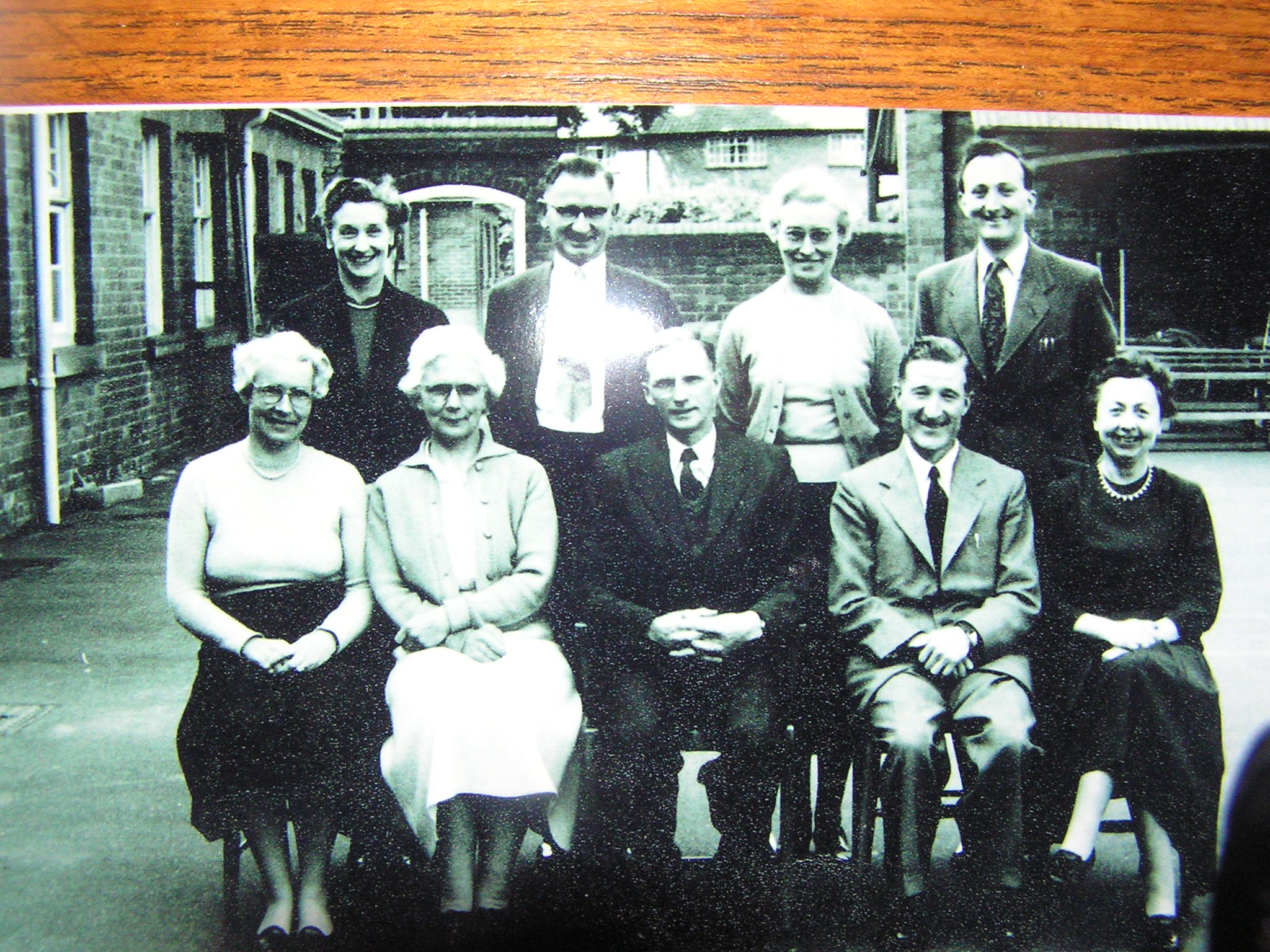 Back Row: Mrs.Nealand, Mr.Channing, Miss Jordan, Mr.Haines
Front Row: ?, Miss Wheeler, Mr.Clark, Mr.Wiles, Miss Phillips
With the explosion of the birth rate after the war it became necessary to re-organise schools in Reading in the mid 50s. Consequently around one-third of the children attending Park Lane transferred to Norcot (previously a secondary school). All children living in Westwood Road and roads to the right (looking from the triangle) transferred to Norcot School – the exception being those in the 3rd.Year Junior who wished to remain at Park Lane prior to the 11+ exam Mr.Turner (previously Head of Norcot Secondary) became Head of Norcot Primary. Miss Scott (who became Deputy Head), Mr.Bray, Mr.Keating, Miss Massey and Mrs.Waltham transferred to Norcot together with Miss Moore and Mrs.Roberts who joined from The Laurels. The school secretary was Mrs. Lewis and the caretaker Mr.Edwards who lived with his wife and daughter next to the school. Across the road from the school entrance in Blundells Road was a tuck shop owned by Kitty Munday. Looking back the building seemed rather sparse – all classrooms had tiered flooring – these were flattened one-by-one over the years. Doors opened out into the hall. Initially there was only one-form entry – vertically streamed 3rd/4th.year, 2nd./3rd.year, 2nd Year & 1st.year. with infants in the huts outside. In another hut school dinners were cooked and eaten – these were edible unlike those at Park Lane which did not have its own cooking facilities. Miss Scott was my class teacher for each of the 3 years I attended the school – she was extremely strict and was not averse to giving anyone smacks at the top of the leg which brought many children to tears.
Photo of Class in Norcot School 1958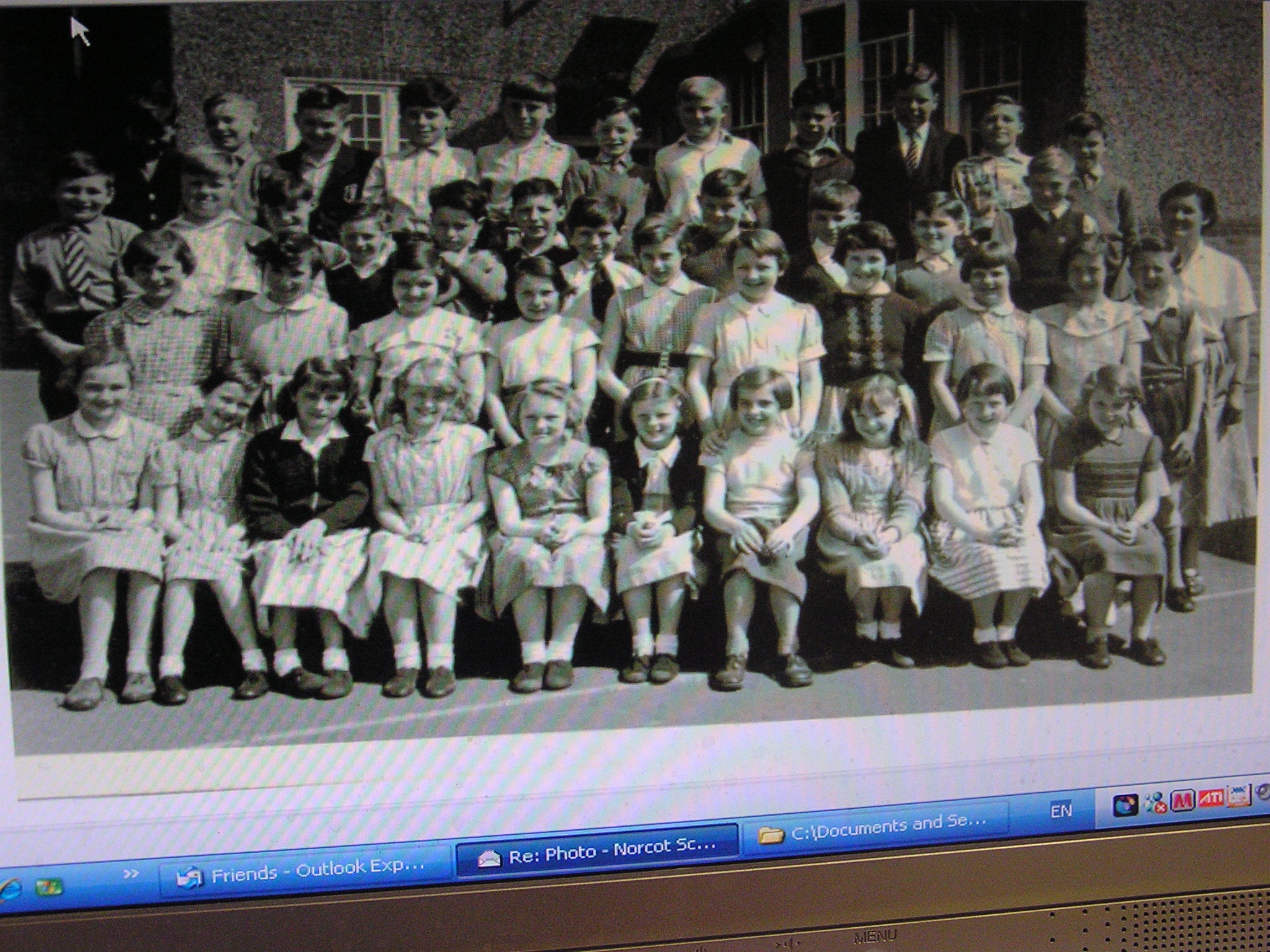 Back Row: ?, Stephen Raybould, Thomas Buckland, Peter Durkin?, Philip Hazeldene,Peter Wise,David Vince, Anthony Apcar, Geoffrey Keen, Alan Ignatowski, Ralph Jarrell,
2nd.Row: Stephen Bulmer, Johnson, Christopher Briggs, Peter McCaskill, Colin Turner?, Peter Allfrey, John Potter?, Christopher Giles, Michael Sollars, Graham Treharne, Christopher Dibley, Miss Scott,
3rd.Row: Doreen Wickens, Shelagh Hill, Maureen Randall?, Hilary Wheeler, Josephine Hanwell, Mary Harwood, Jean Carter, Diane Broadhurst, Diane Warner, David Goddard
Front Row: Jane Radley, Joan Shayler, Susan Rush, ?, Christine Purcell, ?, Christine Turner, ?, ?, Carol Pesani
I seem to remember others – not sure if they are there or not
e.g. Timothy Burton, Roger Beck, Leslie Robinson, David Wicks,
I understand that Diane Broadhurst, Thomas Buckland & Peter Wise have sadly died.
Each teacher had a specialist area and so children experienced all of them:- Miss Scott – English, Maths, Nature Study & PE Mr.Bray – History Miss Massey – Geography (replaced by Miss Sturgess after the 1st.year) Mr.Keating (Art for boys only) I thought he was slightly eccentric at times but he told some wonderful stories Mr.Turner (Scripture & Music initially) – then replaced by Miss Lowe (scripture) & Miss Joy (later Mrs.Chandler) for Music Mrs.Waltham (Country Dancing & also Needlework (for girls only) Mr.Bray & Mr.Keating took games for the boys – football or cricket at the Victoria Rec while Miss Scott took games for girls – shinty or rounders at what was known as the "Little Rec" (Recreation Road)
There were endless games of football or cricket at playtimes or lunch hours in the playground. My one regret was breaking my leg at the start of the season and only being able to play once for the school team.
Efforts were made to maintain the links between Park Lane and Norcot chiefly by holding an annual Sports Day in the Park Lane Sports Field behind the school. I believe that ceased once the pupils from Norcot who had also attended Park Lane had left primary school. Miss Clamp had also retired being replaced by Mr.Clark.
St.Michael's Church
My first experience of the Church was at a crib service one Christmas Eve being led by the Revd.Sherwood, a warm and kindly man. I remember Mr.Sherwood coming down from the pulpit to where I was sitting in the Church taking my hand and then leading me and all the other children and parents to the back of the church where the crib was. I also have a vague recollection of a curate Revd.Underwood leading a harvest festival service in a field – this would be where the Meadway was built. Mr.Morton, the churchwarden who lived in Crescent Road used to give grandmother and I a lift to the church in his car. On one occasion I remember seeing all the roadworks near the Church when the new road (the Meadway) was being cut through.
Plays
My grandmother Florence Cull and then my mother Dulcie Bone had between them produced many plays on the Rectory Lawn. On page 44 of This was Tilehurst my grandmother can be seen in the front dressed as an old man. My mother is standing at the back next to a lady in a bear outfit (this lady incidentally was Alice Butt who lived to be about 100 and resided at the end in one of the elderly persons flats on the site of the former rectory)
Sunday School
At the age of 4 years I attended infant Sunday School at the Old National Schools; my mother at the time had just taken over as superintendent from Barbara Cripps and was to carry on for 3 years until being succeeded by Miss Joyce Watson (one of 3 sisters living together in Westwood Road. Other teachers at this time were Denis Moriarty (later a BBC producer), Alan Jeffries and Doreen Shave (later to marry), Coleen Alexander, Muriel Guy, Roger Scotford, Marion Pinchbeck, Marion Webb, Gwyneth Howlett, Doreen Petry and Philip Farr. After infant Sunday School children moved on to the Junior Sunday School in the Village Hall led by superintendent Len Miles with some of the other teachers Pat Andrews, George McClelland (Mac) who both were to be involved for 50 years, Ann Wynn and Dulcie Kinge. This was a time when attendances were at a peak – later years saw a decline in numbers resulting in all sections being eventually accommodated at the Old National Schools. This was the case when I became a teacher between 1964 and 1967.
Choir
I joined the Church choir at the age of 7 years when the organist and choirmaster was Charlie Davis. He had been at the helm for about 50 years also being a teacher at Reading School. Unfortunately I was only acquainted with him a short time – I understood from others he had been quite a character. Shortly after the Revd.Harvey became rector in 1954 Mr.Davis left to be succeeded by Mr.Warman. I was in the choir for about 7 years eventually reaching the position of stallboy – the other being Stephen Bulmer. Boys were paid 4/- a quarter with 5/- for the stallboys and the opportunity of 2/6 for singing at a wedding. Some of the men in the choir were Norman Saul (a former Head of Norcot School), Reg Garrett, Arthur Harwood, Dr.John Halliday and Mr.Rolfe (teacher at Reading School). Choirs were very much an all-male preserve at the time.
Cubs & Scouts
The 63rd. pack met at the Old National Schools on Monday evenings led by Mrs.Dowsett (Akela) and Mrs.Weller (Baloo). There were 37 in the pack – 6 sixers plus a senior sixer. The usual things were learnt – The National Anthem (both verses), various knots and badges such as House Orderly. There was bob-a-job week once per year and some outdoor activities – one I remember was a treasure hunt in the woods in Langley Hill. One of the treats after cubs was getting a 2d.packet of chips from the shop in School Road near the bus stop. Scouts followed cubs later on Monday evenings – they were led by Clive Baker (Sheriff) Brownies and Guides also met at the Old National Schools during the week Once per month there was church parade when all the various groups presented flags – the scouts marched from the Old National Schools to the Church.
Youth Club
The Youth Club had been in existence for many years when I joined in 1964 – it met at the Church Hall in the Meadway. This had been built in the mid 50s shortly after the arrival of the Revd.Harvey and saw a gradual decline of activities centred on the Old National Schools (now renamed Church House). The vergers continued to live at the back of Church House until its demolition. I remember Mr.Collett, Arthur Fevre and finally Sam Rothwell. In the mid 60s the leader was Joyce Boden, employed as a lady worker by the Church. She was succeeded after a few years by John Strong, a church army captain. Both in their different ways achieved a good rapport with young people. The club met on Wednesday and Friday evenings plus Sunday evenings with the stipulation that members attended Church first. That may not have been too much of a problem to many – the Rector at the time was Peter de la Poer Beresford Pierse, one of the most interesting preachers to listen to so the Church was full anyway. There were 100 members of the Youth club and a waiting list. There was a group of adult helpers including Mac McClelland, Joan Maurice and Norman & Joan Tott.
Go to top&nbsp&nbsp&nbsp&nbsp Home
As told to Pat Ager by Mike Keep
You can read more about the Little Plough from Mike.
I was born on May 22nd 1939 in the house I am now living in. It is one of the oldest cottages in Tilehurst, about 200 years old. At one time it had a fire plaque on the outside wall. If you had a fire plaque the fire brigade had to put the fire out otherwise it was left to burn. I think ours was paid for through Sun Life insurance.
I went to Park Lane School, the headmistress was Miss Clamp, there was also Miss Payton, Miss Phillips, Miss Jordan and Miss Wheeler. Most were female teachers because the men were fighting in the second world war. After the war Mr Bray and Mr Haderell came to the school. Mr Haderell had been in the Royal Air Force. The school had a big assembly hall at one end there was an Honour board with the names of pupils on it who had passed their exams to go to Reading School.
I remember at school we used to listen to BBC radio broadcast for schools. The announcer was Wyndam Milligan. When I was about seven my uncle Ric took me up the Water Tower. He worked for the water board. There used to be wardens there during the war on fire watch and there was a hand operated siren. We used to call Park Lane school The Tilehurst Academy, it sounded posher.
I remember American soldiers who were billeted at Ranikhet Camp. The soldiers used to pick us up and take us to the camp and give us oranges, bananas and even drinking chocolate. They could get hold of anything. Sometimes they would march along School Road and throw biscuits and Hersey chocolate bars at us. They left in 1944 to go to the D Day landings. Evacuee children were then moved to the camp. They had arrived from London. There were so many children then so two classes were set up by the Methodist Church in temporary classrooms. Also a single story building was set up in the playground of Norcot School. Some of the teachers were Miss Alder and Miss Scott. There were no school dinners until after the war. Apart from food rationing, Park Lane had no kitchen and the food had to be delivered from Caversham.
When I left school I worked at Reading University in the Zoology lab. I then joined the army, there was still national service then. I joined the parachute regiment and served in Suez, Cyprus and Aden. I left the army in 1961 and then worked at Gascoignes, which was a South African company. They made agricultural machinery, like bulk holders for milk. From there I worked at Aldermaston but I can't say anything about that as I signed the Official Secrets Act.
Tilehurst had a Home Guard Unit. The headquarters were in Quarry House in Kentwood Hill. I think the building is still there. In charge of the unit was Captain Ted Busby, he was also an alderman. Charlie Duffin was Platoon Sergeant. They only had arms later, the Royal Enfield rifle which weighed 4½ lbs.
Mike remembers The Triangle in the 40s and 50s
If you look at the pages of the Tylehurst Parish Magazine you will find adverts dating back to the 1940s with the names of some of the shops.
I met my wife and married in 1963. We rented a house from Parslows the bakers as the house was originally a bakers shop. The rent was £2.10 a week and was situated next to Bloors the jewellers. There was a greengrocers where Bloors in now. Mr L.R.Stacey took it over. Before that he was a jeweller and had the contract to wind the clocks up in the Town Hall. We used to buy apples in the shop for 1d each. Further along School Road where the estate agents is now was Blackwells confectioners and tobacconists. Where the chemist is now was Mr Baynes, also a chemists. Then was Cox's wet fish shop. I worked there on Saturdays. I did deliveries sometimes as far as Purley and this was by bike. Mr Cox cooked fish and chips at dinner time and in the evening. I peeled and sliced the potatoes by hand and was paid 2/- (shillings). Next was another grocers which was later a Co-op. Then a butchers (Yaxley). Then the only estate agents at the time H. Hedges.
Mike has sketched out what he remembers of the shops and people living round the Triangle in the 40s and 50s. Click on a sketch to see it more clearly.
Where the Plough car park is now was the old National School. It was a proper building. It had rooms for meetings and was used by scouts, girl guides, wedding receptions etc. The caretaker was Mr. Le Feve. Next to that was the Plough pub run by the Robinson sisters.
A bit further along opposite the library was a bigger shop than most. It was a hardware shop but they also sold food. It was called Vineys. Further along there was Jobs Dairy where Age Concern is now. On the corner of School and Armour Road was a complete house built of corrugated iron. Going along the other side of School Road was the original Prince of Wales pub which burnt down. Further along towards the Triangle was J.D.Sym the cobbler. Then there was an American style milk bar, all chrome, bar and high stools. It was owned by Mr. Filbee who was a local business man who used to import Japanese cars.
Here are some newspaper cuttings about the Keep family.
You will see that the report got the name of the nursery wrong - it should have been Keep and Duffin.
Here are some more photos sent in by Mike.
The first of the above photos is of the Tilehurst scout troup. which was led by Captain Harwood. The next photo is of a family wedding. Mike's uncle Stan was the groom and the bride is his Aunt Millie. In the front row, Mike is sitting on his grandfather Arthur's lap. Standing behind them is grandmother Edith. The third photo is of Phyllis Gibbons, Mike's aunt. You can see the old Plough in the background. Next is Tilehurst Cricket Team. It was taken in Victoria Recreation Ground in about 1930. In the back row, second on the right, is Fred Keep, Mike's dad. In the front row, second on the left, is Stan Keep, Mike's uncle.
Martin Crawford has written in to say that there is a photo of the Tilehurst Cricket Team with Mike Keep's father and uncle. For extra information in the back row the 3rd from left is my uncle, Walter Crawford and next to him, 4th from left is my father Ken Crawford. I was looking up my old school, Norcot Primary which I attended from 1958 until 1962 when we moved to Devon when I came across the photo.
Parts of the Triangle as it is now was built in the sixties. Where the Co-op and cafe are now was a Post Office.It was really two rooms of a bungalow and it was run by Miss Townsend. The war memorial was originally where the horse chestnut tree was, but was moved to where it is now. There is an air raid shelter under the grass in the Triangle which was mainly built for the children of Park Lane School in case of an air raid. We used to have practice sessions carrying our gas masks with us. Where Barclays bank is now was a youth club which was built by the Methodist Church.
There was a small road which ran from School Road to St Michaels Road to the side of where the Co-op is now, it was called Church Road until the sixties, now it comes under the Triangle. There was a house behind the Co-op where Mr and Mrs Knott lived. They had a land girl living there called Evelyn. She used to babysit me.
There were many nurseries in Tilehurst because the soil was so good, deep loam. The nurseries were Keep and Duffin in St Michaels Road, Reg Peters in Halls Road, Faulkners in School Road and Lainsbury and Dew in Recreation Road. My grandad came to be foreman at Tilehurst Nursery run by Mr Bosley which was in Victoria Road. Later my grandad went into partnership with Mr Duffin. My grandad was originally a builder. He and Mr Duffin acquired the land in St Michaels Road and build eight greenhouses on it. They grew bedding plants, tomatoes, cucumbers etc which they sold to shops in Tilehurst and delivered to shops in Reading in an old Javelin van. People would go into the nursery and buy direct. My dad wasn't interested in the nursery, so I thought I would inherit it, but during my National Service I learnt that the Council had slapped a Compulsory Purchase Order on it, so that was that.
Go to top&nbsp&nbsp&nbsp&nbsp Home
As sent in by Andrew Clarke
Born 29th February 1956 my parents had told me I was the special one but with two older brothers Anthony and Melcombe we were all special, born and lived at 49 Recreation Road, Tilehurst for a while until my Grandfather died in 1960/1, when we moved into our Grandparents home only two doors away at 45 Recreation Road. We used to have an abundance of chickens and rabbits for the dinner table and spent many happy hours riding our father's BSA Bantam up and down the garden path while our father would be sleeping as he worked night shift because it paid more wages. We used to help digging the garden so we were able to grow vegetables for the table.
I attended Norcot Primary, which was at the end of our road and turning left and a walk to the corner of Blundells Road and Norcot Road. I have so many beautiful memories of my time at school where Mr Turner was Head Teacher and his son Geoffrey was in my class. Mr Keating and Miss Scott were my favourite teachers even though I did once receive the ruler across the back of my hand from Miss Scott for talking in class. I was proud to become captain of the school football team in my last term at school. We won a cup final beating Battle Primary in the final 2-1 and received a certificate signed by Mr Poulston who finally become my form teacher at Alfred Sutton Boys, teaching History. I also remember some lunch times helping with the caretaker collecting coal with the wheelbarrow and taking it to the boiler room so we had warmth in the coldest of weathers. In my final years at Norcot Primary I became a school prefect with a few other boys and girls and the pride I had has never been forgotten. Opposite the school was a very small tuck shop which, we all used to visit to buy penny jubblys and gob smackers which seemed to take hours to consume.
My memories of Sunday mornings are of attending The Methodist Church and of going to the Children's Club on Wednesday evening from 7pm to 8.30pm. On Saturday mornings I remember having to queue at Waring's Bakery on Armour Road and once was able to visit the back of the shop and see bread and those lovely cakes being made. I used to help Mr Nelson on Saturday mornings to clean his chicken sheds and I used to receive 2 shilling (10p) for 3 hours work. During August there was always a Bank Holiday Fete at Victoria Recreation Ground on the crossroad of Kentwood Hill, School Road, Armour Road and Norcot Road where the White House public house stood and our parents used to take us occasionally to The Tilehurst Social Club on a Saturday evening where we would have to fight the clouds of smokers to see any entertainment.
As children we used to play in Blundells Copse and spent many hours digging dens, climbing trees and making tree huts to our best ability. So many childhood memories even now, playing at the old Tilehurst Brick and Tile makers quarry where there were many ponds where we used to catch newts even crested newts which now have special protection and I remember my brother Anthony once got his wellington boot stuck in the clay and we had to help him to get it released. Unfortunately, the rubber boot I'm sure is still there and now the quarry had been filled and finally, you now have what I believe is the housing estate called the Potteries, but somewhere maybe, the wellington boot shall rise.
We also, use to play on the Dee Road quarry and remember once I climbed down the side of the quarry to reach the bottom and on my return to the top I became exhausted and both my brother's ran home to fetch my parents. Luckily my uncle lived on Dee Road and he came to the rescue. During our play on the Dee Road quarry we used to play amongst the World War II pillar boxes which were called FW3 and had six basic designs for rifle and light machine guns. These would not be expected to face heavy weapons so that the degree of protection was less and there was more emphasis on all-round visibility of the sweeping fields of fire.
Although, my father had a vehicle we usually used the trolley buses number 17 for any transportation unless we were visiting other relatives. As children we visited Reading Speedway at the bottom of Norcot Road which I did not really enjoy but my time travelling on my cycle toward Scours Lane to fish on the Thames was ecstatic with the peace and tranquility. We used to travel to Tilehurst Railway Station and cross over the walk bridge and you had to insert a penny to open the gate the other side just to fish. So many memories of my childhood growing up in Tilehurst.
Go to top&nbsp&nbsp&nbsp&nbsp Home
As told by Michael
My grand parents Alexander and Annie Viney owned the Grocery shop (now Parkers estate Agent) at 66 School Road during the second world war. I don't know what year they moved into the shop.
During the second world war my father, in the RAF, was posted to RAF Cranbourne in Salisbury, Southern Rhodesia where I was born in 1943. And after the war my parents George and Ethel moved back to Tilehurst around 1946 moving into 47 Recreation Road. Years later I was fortunate enough to visit Cranbourne on business to find that about 50% of the buildings were as they were during the war.
Dad was demobbed and became the local "Man From The Pru" and had to work most evenings getting business and collecting insurance money.
In about 1948 my parents swapped with my grand parents taking over the shop with grand parents moving into Recreation Rd.
When in Recreation Road I too remember the gas street lights being lit by a man with a long pole to switch on the gas and light. Next door to us was I believe a family called the "Flitters" and they had an ornate garden pond in their front garden. I used to play in the park next to the nursery and one day I bought a pistol from a man for 6d !!! My parents took it straight to our local police sergeant.
After moving to our shop in School Road things were really great. I went to Park Lane School and the high light in winter was hammering in extra studs in our shoes to make us slide further along the massive slides we made in the playground when the ground was icy. Plenty of land to roam over down Chapel Hill and playing football in Victoria Recreation Park
After School I had to help in the shop making up ½ pound blue paper bags of dried fruit, sugar, cheese etc. Every week we had orders to make up which my dad delivered in his car on a Saturday morning. Every Saturday morning the shop was packed with queues down the road and queues around the back for paraffin. Rationing was still going strong
My mother was very friendly with Kay Munday who had a smaller grocery shop just up the road and I remember also a small sweets and other confectionary kiosk in Blundelles Rd which perhaps was also owed by Kay Munday. I was always taking round supplies if they were short. Certainly all the local businesses seemed to help each other.
Another job I had to do was to take and fetch lead acid accumulators to and from the garage next to Jobs Dairy so we could listen to the radio.
Our garden including a small allotment to the left hand side of us which is now a small cul-de-sac of houses next to Parkers estate Agents. For a short while the Home Guard would assemble in the National School next door but also use the allotment.!!
I used to go to the cubs and scouts in the National School next door and would collect fish and chips on the way home for 1 shilling.
Sundays would often see the Boy's Brigade band marching to the Triangle and back. I really wanted to play a bugle!
The old lady next door to us at 64 School Road used to take in washing and she could be seen collecting and delivering in an old large pram.
There was a Monkey Puzzle tree in the front garden of a house in School Road between us and Job's Dairy. There was great excitement when one day we noticed an actual live monkey in the tree!!
Our Doctor was Dr McFarlane just down the road from us quite close to the Methodist Church. I recall visiting during a winter and it was first come first served. We were all seated on hard chair around the lino floored waiting room and there was a small gas fire . It being cold a patient turned the fire up a bit. Dr McFarlane appeared at the door and immediately asked who had turned up the fire. Someone confessed and was sent packing ! You didn't argue with Dr McFarlane
My best friend at school was Bob Tanner who used to live at the bottom of Chapel Hill.
One day on arriving at school we were told we were taking the 11 plus exam. No SATS no advanced warning, no special coaching. We all did the test and I was amazed when a few weeks later the Head Mistress came into my class and told me I could go home straight away to tell my parents I had passed to go to Reading School. I think she said I was the first boy from the school to get to Reading.
Luckily I could catch the trolley bus to Huntly & Palmers and then walk to Reading School returning the same way. With having to go to school on Saturdays as well it provided little time to help in the shop.
Other memorable times included listening to Radio Luxemburg with signal fading every time a trolley bus came by.
And then there was the BBC Radio show "Dick Barton Special Agent" Good clean patriotic adventures far better than any thing made today.
The day we got a television….. The dealer brought round two sets …one sepia tinged and one brown tinged. We chose the sepia tinge. On Cup final day all the neighbours came round to watch it on the 9 inch screen.
One morning we were woken by the sound of steam rollers in the road.We watched the whole of School Lane being resurfaced. Perhaps that was the last time it was done!!
A few years later ITV arrived by way of a set top box !
We were also lucky to have a telephone …the type with a separate earpiece that hangs on the side. If neighbours wanted to use the telephone instead of walking to the public box on the triangle they had to put two pence in a box and be quick!
My grandfather (maternal) would arrive by steam train from Weston Super Mare (mother's birth place) and when he unpacked out came a couple of freshly killed cockerels. Of course I had to help prepare them.
When I was 15 my parents bought a building plot in Cockney Hill and I helped my dad when I could in building the house. He recruited a brick layer from the new Council House Estate (St Michael's) being built at the back of the plot. Bricks had to be unloaded by hand and the mortar was also mixed by hand!!
My brother Stephen had now just arrived and he also went to Park lane School and then onto Stoneham Grammar
I left Reading School at 17 years without going on to A levels and I now admit I didn't work at all at school but enjoyed very much the Combined Cadet Force and being captain of West House Sports.
I joined the Southern Electricity Board for a 5 year Student Apprenticeship and attended Reading tech College 1 day a week and the odd evening gaining an HNC in electrical engineering.
Although an apprentice I also worked Saturday mornings at the corn shop in Armour Road next to the park. Still there. To the side of the shop were the offices of a local estate agent Derek Morton who actually lived opposite us in Cockney Hill.
I met my wife Carol at the SEB and we were married in St Michaels Church in 1965 with wedding cake from Warings in Armour Rd and the reception in the village hall in Victoria Street. With grand parents both gone we bought 47 Recreation Road for £3,000 from my parents.
In 1968 we emigrated to Canada where although I got a job as a professional electrical engineer working on 275kv power network design the HNC was not fully recognized. A couple of years later there was an advertisement from the South African Embassy stating that all expenses would be paid if you were an engineer and wanted to emigrate. I thought the HNC might be more recognized in South Africa and so we emigrated to CapeTown I was wrong!!
Realising something had to done two year later we returned to Reading and I was off to Bath University during the week whilst living above a launderette in Whitley rent free in return for managing it.
On graduating from Bath University we bought a house in Binfield Heath and I got a job at the Head Office of the SEB in Littlewick Green. A few years later we were off to the USA for 6 years before ill health of parents caused our return to Reading.
The next 20 years were spent managing major international projects around the world whilst living in Sonning Common and building a house in Stoke Row.
It was very nice to be awarded the OBE for services to industry
I said earlier that I didn't work at Reading School. In fact after a promising start at the school I ended up in a class of about 15 and the common trait was that we didn't have academic ambitions at all! About 15 years ago one of my class mates organized a reunion which has been repeated every year since with about 13 attendees. Although we all left School without A levels or going straight to University we all gained professional qualifications with about a third becoming Chartered Engineers and a third Solicitors., plus the odd accountant and a couple of senior ranking military people.
My brother still lives in Cockney Hill and I always pop into Warings in Armour Road to stock up with bread when visiting.
Go to top&nbsp&nbsp&nbsp&nbsp Home
As told by Stuart
I was born in Dellwood Maternity Liebenrood Road in 1943 and lived with my parents in Thirlmere Avenue Tilehurst at the Gypsy Lane(now Romany Lane) end from 1943 – 1957 when we moved to central Reading. There were only about two cars ever parked in the whole length of Thirlmere Avenue and all the houses had nice front gardens and as children we played in the street most of the day or up the lane in Mcllroys Park, typically Cowboys and Indians until we felt hungry and went home for a doorstep sandwich of jam or possibly dripping from Sunday's roast. During those times I remember both seeing and visiting our house as a regular sight "The Baker – Dawsons", "Milkman – Jobs", "Rag and Bone man with his horse", "The Pigman collecting swill", "Crumpet man –tray on his head ringing his bell", "The local Butcher", "The Life Insurance man", "Various Tally Men/door to door Salesmen".
We often borrowed sugar or milk off the neighbours, they often borrowed the same off of us and we typically never locked our front and back doors except late at night. We knew many of them extremely well up and down our end of the Avenue and I do not ever recall any incidents of local crime. Friday night was often pub night for most of the husbands where they went to a local pub and typically once a week paid a bob or two into their Christmas Club so that they had money for the family at Christmas. I remember we only ever had chicken on Christmas Day, unbelievable these days and I unlike many loved powdered egg and school dinners, as rationing did not end until around 1953/54 I believe.
The local policeman on his bike we would see frequently just showing his presence and keeping an eye on things, including watching that some of the local kids did not get caught scrumping when fruit was in season.
How times have changed today with most front gardens having been turned into car parking and double parking virtually the length of the Avenue. I also recall the Coronation Tea Party(1953) with multiple banks of tables and chairs/cakes/jellies/ice creams along the length of the Avenue with parents attending a few hundred hungry and excitable children and all presented with a Coronation Spoon with the new Queens head at the top. No real regular daily traffic in those days along the Avenue as residents only had bicycles and the odd delivery horse and cart.
As children we discovered most of the local environment and I clearly remember the Clay Pits/Brick Kilns, Ranikhet Camp/soldiers, Rex Cinema/Saturday Morning Club, Norcot Mission Sunday school/Attended every Sunday, The Scours Lane Lido, The Trolley Buses, The Smog most winters, Hot summers, Smith's Coaches to the Seaside, Freezing Winters with no central heating and ice on the inside of the house windows and Mr. Lunns's vegetable shed/shop as part of Minchin's Farm both opposite and below Lyndhurst Road at the Gypsy Lane end. I also recall the long walk to and from Stoneham School most mornings from Thirlmere Ave. via Gypsy Lane, Norcot Road, Links Drive, into the large allotments (pigs, vegetables etc.) into Water Road, then Tilehurst Road, across a section of Prospect Park, out near the Hospital there and up Honey End lane into the main school gate, where often our uniforms and state of dress before school itself was inspected and verbally corrected by one of the duty teachers/masters. Those days strict discipline really was the rule.
My father worked for Sigmund Pulsometer Pumps in Oxford Road, close to the bottom of Norcot Road during the war and the late 40's and later joined Reading Borough Council as a carpenter whilst his 3 brothers all worked at their different trades for Francis Brothers in Tilehurst.
I attended Park Lane school from 1948 – 1955 and then moved to Stoneham School in Honey End Lane, Tilehurst, which was the first year it opened. This was literally a brand new school with a distinct two halves in every way, namely a Secondary Modern (pupils left at 15) side and a Grammar Side (pupils left at 18 and typically went on to University). I recall there were approx. 700 boys in this all boys school. It was one of those rare occasions in the 50's where depending upon exam results a few could migrate from the Secondary side to the Grammar side at 4th form level after taking the RCE in those days to the Grammar side with the opportunity to take "O" and "A" levels. I guess I was one of the lucky ones and finally left before my 19th birthday. Dr. Smith I recall was the Head Master with his house just inside the main gate. I also recall Miss Clamp (Headmistress), Miss Wheeler and Miss Jordan from my Park Lane days. I really enjoyed both schools and what Tilehurst had to offer in the 1950's. It was and still is a lovely place to live, although these days the cars and faster pace of life tends to rule. I do remember whilst at Park Lane during the hot summer months when at school, asking passers-by via the main school gate and side fencing/hedge on the Chapel Hill side to be kind enough to get multiple 1 d (old penny) ice lollies for various pupils from the sweet shop/newsagents on the corner next to Marjorie Clark's wool shop at number 4 Park Lane, whose son Brian was in my first year class at Park Lane and we are still close friends today 68 years later, although today I live in Winchester but will always have fond memories of Tilehurst.
Emma had five children, Ellen, Edith Grace, Katie, Frank and Frederick as can be seen in the front page of the Bible. However, sadly if you look at the front page of the family bible you will see that two of her children, Katie and Frank, died at a very young age.
By 1911 they had moved to Polsted Road. There is some confusion as to the house that they actually lived in. There is a reference to being at number 14 and to 29 but mostly it seems that they lived in number 27.
The confusion with the house numbering is probably due to the fact that when the Lovells first lived in Polsted Road, there were only the terrace houses on the left hand side. So these would have been numbered 1, 2, 3, 4 etc along to the end. When the houses were built on the right hand side all the houses would have been renumbered , so 14 became 27.
Indeed there is a photo of Emma Grimsley standing outside the door of number 27. Emma Grimsley was my Mum's granny. There is also a picture of my granny (Ellen) standing outside the door of number 27. (I don't know why, but they all seemed to stand outside to have their photos taken!)
In the picture of Ellen above, she is wearing the same clothes as she wore for her daughter Beryl's wedding.
Ellen Lovell spent most of her life at Polsted Road apart from the five years she lived in Hayes. Her Dad was a platelayer on the railway. Ellen married Clifford Lacey so became Ellen Lacey.
Clifford was a boy soldier at 15. when he signed up. He was wounded, shot in the knee although it might have been self-inflicted since apparently it was common for young lads to accidently shoot themselves when holding a gun. Ellen Lovell was an airraid warden for Tilehurst.
Ellen Lovell and Clifford Lacey (my nanny and granddad) may possibly have been related.
He was a station porter at Tilehurst Station and then he was a station porter in Hayes. He lived in Grovelands Road and cycled from there to work at Tilehurst Station. He used to tell the story of seeing a ghost in the waiting room at the station. Ellen used to tell this story too. Now we will never know for sure but my Mum said that Clifford was so freaked by seeing the ghost at Tilehurst Station that he might have asked for a transfer to Hayes station. However, it was more likely to move closer to his father who lived in Fulham. When Clifford's Mum died, as a favour, he was painting his aunt's house in Uxbridge and he fell off a ladder. He died from peritonitis in 1938 as a result of the fall. After he died, Mum came back to live in Polsted Road with granny Emma. Mum was only six when Clifford died.
Ellen Lovell moved away from Polsted Road after she nearly gassed herself and blew up most of Polsted Road by failing to light her gas oven. It was on my dad's insistence (he was a gas fitter by trade) that she moved into Rotherfield Way in about 1960. Mum moved away in 1957
Most of the Lovell family went to Park Lane School.
All the ladies in the family, Edith Grace and Ellen, were cleaners. Ellen met Clifford when she was a cleaner at the Roebuck Hotel. The first photo is Clifford and the other photo is probably of the staff at the Roebuck.
Edith Grace Lovell was Ellen's sister. She, like the other ladies in the family worked in domestic service. She was a housekeeper and cleaner for Dr. Fosberg when this photo was taken. Dr Fosberg was from Calcutta and he died in 1938.
She is probably standing outside 66 Victoria Road, the house where Dr Fosberg lived and which was also his surgery. Ellen also cleaned house for another doctor, a Dr. Bissett, who lived in a thatched cottage in the Meadway. My Mum remembered his daughter singing to her when Ellen took her there..
Edith Grace stayed single all her life. At the change of life she became very depressed and was committed to Fairmile Hospital in Wallingford. She spent the rest of her life there. She died in 1968 in the hospital.
Mum was Beryl Lacey and she became Beryl Mason when she married my dad Cyril Mason. Before she was married she used to flirt with the American Soldiers who were stationed at Ranikhet camp. The Americans troops based in Ranikhet were the 101st Airborne nicknamed The Flying Eagles who were parachuted behind enemy lines in preparation for D Day. They were one of the first units to see action that day and they were also involved at Arnhem in Holland which was made famous in the film A Bridge Too Far.
My Mum was engaged to be married to one of the soldiers. Her friend in fact got married to another and moved to live in America. My Mum never spoke about what happened to her GI fiancé but when she died and the family were going through her private papers I discovered a dead GI's dog tag. It puzzled me as to why she had it and not his relatives. Then it struck me that it belonged to her dead fiancé
Mum had a lucky escape in the war. She was going to go to the People's Pantry but at the last minute decided to go to the cinema. While she was there the People's Pantry was bombed leaving many dead. Mum worked in Dolcis the shoe shop in Reading. It was the only job she had.
However, back to Cyril Mason, Mum's husband and my Dad. He is the one on the left at the back of the photo.
Cyril's dad was John Mason and his mother was Agnes Singleton. They were not married but they had 7 illegitimate children. His dad was probably married already with a wife up in Yorkshire somewhere. Cyril came to work at AWRE in Burghfield to get as far away from his Dad as he could. He lived in Polsted Road and lodged in a house there. He saw Beryl (Mum) who was living in Polsted Road at the time and thought she was a bit of alright. In 1956 they moved to Caversham but I was christened in St Michaels Church. They had three children: Lynda was born in Polsted Road, but Kim and I were born in Rotherfield Way after they moved from Polsted Road.
The Lovell family were Salvation Army people. In 1911 Frank was in Canada doing work for the Salvation Army.
Fred Lovell married Lizzy Bolton, whose family lived in Water Road. Fred and Lizzie lived in Park Lane for a while and later they moved with their daughter Valerie to Maidenhead. This is a photo of Fred Lovell (on the left) and Clifford Lacey (Ellen's husband).
Amongst the collection of photos that I have there are these two fascinating ones of an event. It is obviously somewhere in Tilehurst since the sign is for Tilehurst Village Hall but it is not the one that is now in Victoria Road. I assume that some of my family are in the photo, but I am not sure. At least they all seem to be having a lovely time.
This is not exactly about Tilehurst but is a strange coincidence. Emma Grimsley's family lived in Headington, Oxford. Next door to her where her Father lived was a brick kiln works and next door again was the yard store for bricks, roofing tiles and chimney pots. The yard itself was called the Tilehurst Yard. Her Father, Thomas Grimsley, worked in the brick yard. So perhaps at lot of Headington was built using Tilehurst sourced products such as chimney pots. After all Oxford is only a short barge trip up the Thames
Go to top&nbsp&nbsp&nbsp&nbsp Home
As sent in by John
My memories are centered on Park Lane, Chapel Hill, School Road, Norcot Road and Armour Road in the 1960s in the main.
I was born in Dellwood Maternity Unit in August 1958 and lived first with family at 28 Beverley Road before moving to 24 Park Lane in 1960. Then, number 24 was the last house on the right before the new Berkshire Drive which was a gravel track. Between the house and Berkshire Drive was a small field which contained an old, black barn. In 1964 and 1965 I used to watch a workman arrive every morning on his bicycle, drive a tractor out and disappear for the day before reversing the process in the afternoon. I have asked many people about the barn but nobody has yet remembered it. It was demolished about 1967 when the row of modern town houses was built and the estate behind was developed. I would be very interested to know who owned the barn and perhaps even who the workman was.
Down Berkshire drive there was scrubland to left and right which ran along the back fence of the church towards City Road, along the back of the houses in Park Lane almost to Chapel Hill and down the slope to the 'gutter' at the bottom. This scrubland was strewn with large concrete spheres perhaps five feet or so in diameter together with big concrete blocks and beams. They were just scattered very untidily as if tipped from the back of many lorries. I have never known what they were nor does anybody else seem to remember them. Somebody who had served in the war suggested that they may have been unused tank traps, for use in case of invasion and discarded immediately after the war. That seems to be a reasonable explanation but does anybody else remember them and know for sure what they were? How and why were they tipped there and not on military land?
About 1965 a BP petrol filling station was built on the north side of Berkshire Drive, (on the right as you go down) near the top. The first attendant was a youngish man named Pete. He used to close for lunch and put a note on the door 'back in 10 minutes' and would drive along to the fish and chip shop in School Road on the right, before Norcot Road. In the 1970s the garage became automated and unattended. Then, to obtain petrol you had to enter a pound note into the pull out drawer of the pump and push it back in. The machine would then dispense £1 worth of petrol which seemed to be adequate for most local journeys. The garage was demolished about 1979 or so.
Opposite the end of Berkshire Drive in Park Lane was a small stream that was, and I think still is surrounded by railings. As a child I wondered how there could be an underground stream that surfaced briefly at the top of a hill when logically it should be at the bottom of the hill, like the stream or gutter in Hildens Drive and Chapel Hill. I later realized that it was a natural spring and that Tilehurst seems to be well served by them.
Schools
I went to The Laurels and didn't like it much. I still remember the musty smell of the interior of the building and I thought it a dull and cheerless place. We used to have to do P.E. in the Red Cross hut just round the corner in Gratwicke Road, another musty, cheerless place. I couldn't understand what P.E. was supposed to achieve because I spent every possible moment both at and after school, playing football, running, cycling, scootering, climbing and jumping anyway so the gentle arm stretching and bending exercises conducted during P.E. were a mystery to me.
My granddad used to take me to school and we used to walk across the middle of The Triangle where a smooth concrete ridge emerged through the trampled turf. I was told it was the top of the air raid shelter constructed during the war. I have never seen any photographs of it and have heard reference to it only once or twice. Does anybody remember it before it was landscaped?
I also attended Park Lane School and didn't like that much better. I remember a lovely mixed race teacher named Miss Marks. She was very kind to small children. She drove an Austin Mini and she would wave to me as she passed by. I can't remember whether she taught at The Laurels or Park Lane though. Does anybody else remember her or what eventually became of her?
I remember Mr Flint, Mr Wilde and Miss Phillips the French teacher. I really didn't like the latter and it may be unkind but on a personal note, as a child I had never seen anybody whose chin merged seamlessly with their neck!
I used to walk to Park Lane School past the giant Red Cedar trees that lined the footpath at the front of the school. I don't know when or why they were planted but by 1966 they were giants indeed and were unfortunately out of proportion to their surroundings. They were useful in the winter though. On occasions the fog (or was it smog?) that descended was so thick that it was literally almost impossible to see one's hand before one's face. Though the passing traffic could be heard it could not be seen. The trees were a useful guide as to the position of the road and by counting them they would guide you safely to the school entrance. They were felled by 1971.
I left Park Lane School and moved away with my family for a couple of years just as the swimming pool was being built by volunteers in the summer of 1968.
Buildings
Travelling along Park Lane from Berkshire Drive in the early 1960s the first building on the left was the black barn mentioned earlier then number 24, then 22 containing Mr and Mrs Payne and their adult sons Malcolm and Graham. They moved to Penzance on retirement. Mr Payne worked for Great Western Railway as a tradesman and built numbers 22 and 24 for himself and his mother in the 1930s. Number 20 contained Mr and Mrs Peather (or Pether?), number 18 was the Filbees and 16 was the elder Mrs Filbee who lived in the bungalow opposite the end of Mayfair. There was then the entrance to Filbee's yard which was a transport yard and large garage for Filbee's lorries which were quite frightening as they frequently crossed the pavement on their way in and out. I was much impressed by the Lamborghini Countach that used to park outside the bungalow at weekends. I think it was the car dealer Robin Filbee visiting his old mum. Beyond that was a modern detached house then Frankum's or Frankham's greengrocers. They would close the shop at lunchtime leaving all the produce openly on display outside the shop. Presumably nothing was ever stolen. Next was a hairdressers then a wide driveway before the butchers and grocers run by the Brereton family. Next was a wool shop run by Marjory Clark who I think passed away at a great age in recent years. The shop was full of old wooden drawers and shelves packed with balls of wool of every type and colour. Marjory had a disability of sorts and had difficulty walking but still managed to climb the ladder to select whatever was required from the higher shelves. Next was the newsagents on the corner of Chapel Hill then Park Lane School. Downing Road had the old prefab building that became the Royal British Legion club house. Does anybody know the original purpose of that prefab? Next was the hardware store, again I think run by the Brereton family. I used to be sent for a gallon of Esso Blue paraffin for the heaters at home as we never had central heating. There were a couple of houses, then a building set back on its own land which was used as a car repair garage. Does anybody know the original purpose of that building? There was then the jewellers and all the other shops already mentioned by other contributors. Opposite was the cobbler's shop and Bert Farmer the barber. Further along School Road I remember the giant red cedar tree immediately outside Job's dairy and the advertising hoardings and strip of lawn beyond the garage on the left. Was there a Monkey Puzzle tree there somewhere?
Round the corner into Norcot Road, between The Whitehouse Pub and Coggins the cycle repair shop was a wide driveway down which was a car repair garage run by, I think, Bob Parr. He lived above Coggins and had the most realistic Elvis hair style I had ever seen.
Moving on a couple of decades, when we married we lived at 72 Norcot Road on the corner of Blundells Road. We bought that house for £27,500 in 1983. There was no back garden as it had been given over to a hut which was owned by a florist. I think our front room had been used by a previous lady resident as a sweet shop serving the children of Norcot Primary School. Does anybody remember the sweet shop in the front room of the corner house or the florists in the 1960s?
Further down Norcot Road on the right was the house of Mrs Doris Gash who kept an animal sanctuary and all manner of animals in the field next to her house which now forms the grass verge between Chichester Road and Norcot Road.
People

The knife sharpener
A grey van would come and park outside the butcher's in Park Lane and the man, wearing his brown coat would collect knives from the shop and get into the back of the van. Soon afterwards a great shower of sparks would sprinkle out from under the van and scatter around before the man would take the knives back into the butchers.
Bunker
'Bunker' (I never knew his real name) lived in Downing Road. In the 1960s he appeared to be quite elderly but I know he survived long after that. He wore a flat cap, a raincoat and he suffered terribly with bunions. He cut big sections out of his shoes to accommodate the bunions which were then clearly visible through the holes. He seemed to spend a lot of time going to and from the bookmakers and more time in the British Legion club house in Downing Road. He was very patriotic and always jumped to attention when the national anthem was played and he aggressively insisted that everybody around him did so. He had no time for children or teenagers, especially those who had the affront to ask him why he was so patriotic and what he actually did during the war. Does anybody know?
Gunner
In the early 60s and I believe before that, there was an unfortunate man fondly known as 'Gunner'.
This was I think an unkind reference to his service in the first world war when it was said he suffered shell shock. Gunner was well known around Norcot Road/School Road crossroads where he would stand in the road directing traffic, sometimes incorrectly indicating that it was safe for all traffic to enter the junction at the same time.
Man in wheelchair
In the later 60s there was a man who sat in a wheelchair directing traffic from the safety of the pavement at Norcot Road and sometimes at the end of Mayfair. Does anybody know if this was also Gunner in his later years?
Go to top&nbsp&nbsp&nbsp&nbsp Home
As told to Pat Ager by Marion
I was born in Downing Road in 1933 – all my brothers and sisters were also born at home. There were ten of us – three boys and seven girls, plus my parents which made twelve of us in a 3-bedroomed house.
I went to Park Lane School and then to Norcot School. I enjoyed my time at Norcot School, it was lovely. My mother used to cook us porridge for breakfast, with treacle, and then cod liver oil and malt sprinkled on top. I used to have my dinner at school; we had meals like shepherds pie, sausage and mash, and for pudding jam roly poly or spotted dick. For cookery lessons we used a building near the National School which was situated near where the Plough pub is now. For PE we used Blagrave Park in Recreation Road, and played rounders a lot.
In our spare time, we used to go to New Park quite a lot; there was a paddling pool there then but no swings; we used to play roly poly down the slope. My mother made lemonade and gave us biscuits and we would spend nearly the whole day there. We used to go blackberrying and bluebelling depending on the season. We also went scrumping, as there was an orchard at the back of Blundells Copse. We used to tie a rope on a lamppost and swing round on it.
In 1938, when I was five, we moved to Crescent Road which had four bedrooms and a large garden which was just as well as we had two evacuees during the war, Joyce and Betty, who were from Canterbury. My dad used to keep chickens, pigs and rabbits in the garden. My mum was an air raid warden during the war and made sure everyone switched off their lights. She also knitted socks and gloves for the army. I used to do a paper round when I was about twelve, delivering around Chapel Hill and Westwood Glen. I got my newspapers from the newsagents next to the Post Office in School Road. The owner was a Mr Watts. During the school holidays my friend and I used to get on the bus at the Bear Inn and go right through to the Three Tuns, but just before we got there we hid under the seat and go all the way back again. We did that a few times but stopped before we got caught.
When I left school, I worked at Huntley & Palmers for six years, then at the Co-op laundry in Caversham. I also worked at The Three Cooks, situated at Kennetside, which made custard, soups and jelly, and worked also at the Dennis meat factory in Southampton Street which made sausages. I think it was later called Fenners.
I married when I was twenty-seven; we moved to Garston caravan park in City Road for a while and them moved to my mother's house in Westwood Road. We then bought a house in Blundells Road ,which cost £4,000, as by this time we had three children and then we had another child.
Some other things about Tilehurst… There was a riding school in the area by the bus stop going up Norcot Road by the cemetery. There was a farm in Downing Road called The Fur Pit – it took in where the British Legion is now and the playing field that is used by Park Lane School. There was an ice cream shop on the corner of Victoria Road. Where Corals is now in Norcot Road was a bakery called Rules, then the name was changed to Polly's, then there was a greengrocers called Brads. There used to be a small Post Office where the coffee shop is in the Triangle.